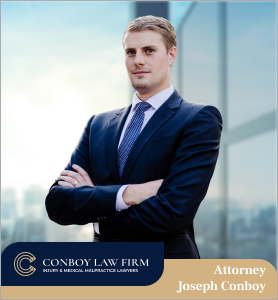 Rideshare apps like Uber and Lyft have been steadily gaining traction among everyday commuters worldwide. Ridesharing is a relatively new concept, and the legalities of their accidents are something not every personal injury lawyers is familiar with. Luckily, our Chicago Uber accident lawyer is up-to-date with the legal nature of rideshare incidents.
WHY CHOOSE CONBOY LAW FIRM FOR YOUR CHICAGO UBER ACCIDENT CLAIM?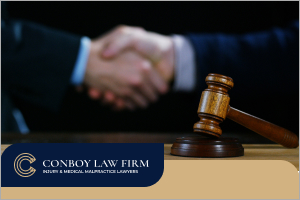 Choosing the right attorney for your personal injury claim is essential to the success of your case. Oftentimes, your legal representative can make or break your chances of winning a case.
Retaining the help of an experienced attorney can give you astute insight into your Uber accident case. Moreover, they can help protect your rights against lowball settlement offers and mind tricks from the opposing party.
Our revered and award-winning Chicago Uber accident lawyers at Conboy Law Firm have helped many rideshare accident victims reclaim their justice.
Our successful track record speaks volumes of our dedication to helping our injured clients receive what they lawfully deserve. When you choose to work with our law firm, you can rest easy knowing that we are backed with:
Over 6 years of expertise in personal injury law.
Millions of dollars recovered for our injured clients
No cost in hiring our team
Free consultations
Exceptional success rate
WHY DO YOU NEED TO CALL CONBOY LAW FIRM AFTER AN UBER ACCIDENT IN CHICAGO?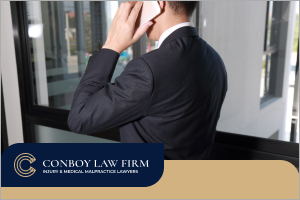 Accidents involving Uber are complicated in nature. If you go through the legal process alone, you might easily get lost and overwhelmed along the way. Hiring a Chicago rideshare accident attorneyis crucial to ensure you are following the appropriate legal process.
At Conboy Law Firm, our experienced Uber accident attorney has years of experience and demonstrates a superior ability to win, inside and outside the courtroom. We've successfully secured millions of dollars on our client's behalf.
Here's what you can expect when working with our firm's legal team:
Provide answers to your urgent legal questions
Provide direction and clarity as we navigate the claims process
Investigate your Uber accident thoroughly
Handle all communications with opposing parties and insurance providers on your behalf
Negotiate with the at-fault's insurance company backed by evidence and arguments
Have our seasoned trial attorney fight for your case before a jury if necessary
UBER ACCIDENT STATISTICS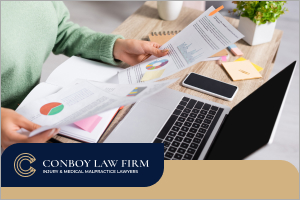 In 2018, Uber published a safety report stating that over 58 fatalities were reported throughout the year. This shows that out of 100 million vehicle miles traveled by Uber vehicles, only 0.57 fatalities occurred. Furthermore, Uber also documented that roughly 30% of fatal rideshare accidents involve pedestrians.
Although this statistic indicates that the fatality rate may be low, Uber did not reveal the number of non-fatal injuries resulting from Uber accidents.
UBER PROVIDES INSURANCE PROTECTIONS
Depending on some circumstances, Uber's insurance coverage may or may not cover accident victims. Keep in mind that Uber's insurance policy is quite complicated. The following sections outline how Uber's liability coverage applies to different situations.
THE UBER DRIVER WAS OFF DUTY
Uber's insurance policy does not apply if the driver was not using their app at the time of your collision. In cases like this, the Uber driver's personal insurance policy would be the option you can turn to for coverage.
Moreover, if you have an auto insurance policy, you may file a claim with your insurance provider if the at-fault's insurance policy is insufficient or unavailable.
THE UBER DRIVER WAS ACTIVELY WAITING FOR A RIDE REQUEST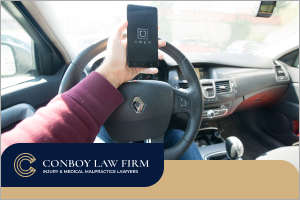 Uber's insurance policy will kick in if the Uber driver had their app open and was waiting for a ride request at the time of the accident. In this case, Uber's insurance policy may generally provide:
$50,000 in bodily injury protection (if you are the only injured victim)
$25,000 for property damage
THE UBER DRIVER ACCEPTED A RIDE REQUEST
Suppose the Uber driver was actively using the app, accepted a ride request, and was on his way to pick up or drop off a passenger. In that case, Uber's maximum insurance policy kicks in. The rideshare company's insurance policy may generally provide:
$1,000,000 in third-party liability coverage
At least $250,000 of underinsured or uninsured motorist protection
Contingent comprehensive and collision coverage
Even with these stated coverage amounts, you may not obtain the total insurance-funded compensation you are entitled to receive.
An insurance company may use devious techniques to get you to settle for less compensation. That is why you need to hire a Chicago Uber accident lawyer to level the playing field.
DEALING WITH INSURANCE COMPANIES ACTING IN BAD FAITH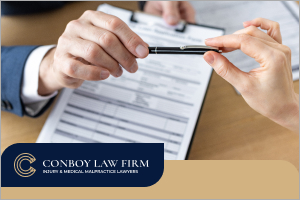 Insurance companies often possess tremendous resources at their disposal, and they can use these to force you into accepting a lowball settlement. They may try to impede the fair legal process or send an attorney to gaslight you into thinking you deserve less than what you lost.
Our Chicago Uber accident lawyer will handle the entirety of your case, from case filing to insurance negotiation and courtroom representation.
We'll ensure that no insurance adjusters or attorneys will prevent you from recovering what you lawfully deserve.
COMMON CAUSES OF UBER ACCIDENTS IN CHICAGO, IL
Uber and Lyft accidents transpire the same way most motor vehicle accidents do. Whether through overspeeding, drunk driving, or vehicular failure, the law protects accident victims by bestowing them the right to recover damages.
Outlined below are the typical causes of Uber accidents in Chicago:
Overspeeding is a typical problem in almost every motor vehicle accident. An Uber or Lyft driver is more likely to speed up recklessly for various reasons. One common reason is to transport more passengers to increase their earning potential.
Many Uber drivers earn most of their money at night when people are intoxicated and are too uncoordinated to drive themselves home. As a result, many rideshare drivers become exhausted and groggy, increasing their chances of starting a car collision.
Distracted driving is one of the leading causes of car accidents. Uber drivers must often check their cellphones to find a passenger or follow the map, which compels them to take their eyes off the road, causing a catastrophic collision as a result.
Driving under the influence of drugs or alcohol
Despite Chicago's stringent anti-drunk driving laws, intoxicated drivers remain rampant, and this scenario doesn't differ much from rideshare drivers. Inebriated Uber drivers lack coordination since alcohol impedes their motor skills such as eye, hand, and foot coordination.
Failure to maintain a vehicle properly
Drivers for Uber and Lyft are independent contractors, and the responsibility of maintaining the condition of their vehicles falls upon their shoulders. When drivers neglect to maintain a crucial vehicle safety component, such as tires, brakes, or even windshield wipers, accidents resulting in catastrophic injuries may occur.
Sadly, Lyft and Uber do not give any specific training to their drivers before enabling them to transport passengers. Some accidents occur because inexperienced and untrained drivers fail to react effectively to traffic circumstances on busy roads and highways.
Reckless driving is an umbrella term referring to careless driving. This could include overspeeding, drowsy driving, tailgating, disregarding traffic lights, etc. When drivers fail to provide the standard of care while driving, they are putting everyone on the road at great risk.
Parking in dangerous zones
Uber drivers sometimes pick up or drop off their passengers in dangerous places. In some cases, this situation is out of the driver's bounds. However, they could still be held responsible as they are actively on duty when an accident transpires.
COMMON INJURIES IN AN UBER CAR ACCIDENT
If you are involved in an Uber accident, you should immediately notify the police and seek medical attention, even if you do not feel you have been wounded; it's better to be safe than sorry. In certain circumstances, signs of an injury may not appear until days or even weeks after the event.
Some of the injuries often associated with Uber accidents are as follows:
Fractures. Bone fractures caused by car accidents often need continuous medical care and physical rehabilitation. Fractures take a long time to heal and restrict mobility for many Uber accident victims.
Injuries to the head and spine. Trauma to the cervical, lumbar, or thoracic spine may result in paralysis from the neck to the waist down.
Whiplash. This injury is a form of neck damage caused by a significant impact. Whiplash is relatively manageable with rest and pain medication. However, severe cases may cause nerve or disc damage, burst ligaments, or shattered vertebrae.
Loss of limbs/digits. Severely injured limbs (crushed bones, partly severed limbs, etc.) may necessitate amputation. As a result, regular tasks like walking or driving become difficult or almost impossible for Uber accident victims. Loss of fingers and toes might also impede an Uber accident victim from working or exercising.
Traumatic brain injuries. A jolt to the head or body due to an Uber accident may result in a traumatic brain injury (TBI). A minor traumatic brain injury may cause temporary brain malfunction and physical and cognitive repercussions. In contrast, a more significant brain injury may result in bruising, bleeding, and tissue damage in the brain, leading to lifelong mental or physical disability, paralysis, or wrongful death.
COMPENSATION AVAILABLE TO CHICAGO UBER ACCIDENT VICTIMS
The damages you may recover in a ridesharing accident are the same as other forms of motor vehicle accidents in Chicago, IL. You may claim monetary damages for economic and non-economic losses resulting from your injuries.
ECONOMIC DAMAGES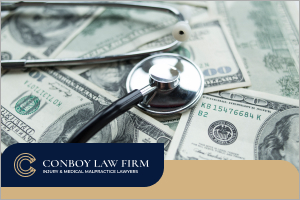 Economic damages involve substantial losses that a victim has had or may incur due to their accident. Economic damages are usually far more tangible since they can be quickly recorded and assessed, such as:
Medical expenses
Medical bills (past and future medical attention and treatment)
Lost wages
Disability accommodations
Physical therapy
Medical devices
Car rental fees
Property damage
NON-ECONOMIC DAMAGES
Non-economic damages are subjective, unquantifiable non-monetary damages. These damages do not have a receipt or other objective verification, such as:
Pain and suffering
Emotional distress
Disfigurement
Loss of full life
Loss of consortium
Loss of enjoyment
PUNITIVE DAMAGES
Punitive damages are often used to penalize extremely severe acts, but they are difficult to obtain. In most jurisdictions, you must show that the other party's "willful and wanton" wrongdoing caused your damage.
Punitive damages are unrelated to any actual harm, and they're meant to punish the offender and dissuade others from doing the same.
WHAT SHOULD YOU DO RIGHT AFTER YOUR CHICAGO RIDESHARE ACCIDENT?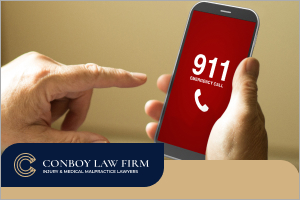 What you do post-accident is crucial. The steps below specify what are the best practices when dealing with a rideshare accident:
Call 911 to Report the Accident. Police reports serve as formal records of accidents, and an official police record might aid when submitting an accident claim with ridesharing companies.
Take Photos of the Accident Scene. Document the accident site with photos and videos if you can, and it is safe to do so. Try to catch the automobiles' whereabouts, damage, traffic lights and signs, and the overall surroundings. Before you may get compensation for your injuries, you must show evidence to prove who caused the ridesharing accident.
Seek Medical Care for Your Injuries. A doctor should be seen as soon as possible following the collision if you do not get an ambulance. For an accident claim, you must detail your injuries.
Inform the Rideshare Company of the Accident. Uber and Lyft make reporting driver-involved crashes simple. Accident victims can use their smartphones to report the incident. They may also report the ridesharing accident directly to the business.
Contact a Rideshare Lawyer Right Away. Injuries caused by rideshare accidents are complex legal concerns. Insurance and ridesharing firms have teams of attorneys and detectives working for them. You need someone to watch out for you.
CHICAGO UBER ACCIDENT FAQS
Can I sue Uber after a rideshare accident in Chicago?
Yes. If an Uber driver causes an accident, you may sue Uber based on the legal theory of respondent superior, where Uber is vicariously liable for their agent's action.
Our Chicago personal injury law firm has represented numerous Uber accident victims, helping them get the most compensation for their losses. To seek fair compensation for our injured clients, we thoroughly investigate the accident and the involved parties.
Are Chicago Uber drivers required to have insurance?
Yes. The company requires all Uber drivers to obtain a personal auto insurance policy following state and federal law. Furthermore, Illinois state law mandates all registered motor vehicles to have liability coverage upon registration.
Can I still recover damages if I was partially at fault for my Uber accident in Chicago?
Illinois employs a modified comparative negligence law in personal injury cases. According to this regulation, an injured victim may sue for compensation under Illinois law if they were less than 50% at fault. When applying this rule, the victim's payment will be reduced by the degree of their shared responsibility.
How long do I have to file for an Uber accident lawsuit in Chicago?
Illinois's statute of limitations for personal injury cases is two years from the accident date. Failing to file a claim within this time limit may bar you from recovering your damages.
Is it worth hiring a Chicago rideshare accident attorney?
Yes! Hiring a Chicago Uber accident lawyer can help guarantee that you recover damages from an Uber accident. They are well-versed in personal injury laws involving Uber accidents and are also experienced in dealing with cold-hearted insurance companies that may take advantage of you.
How much is my Uber accident case worth?
There is no exact amount as to how much your Uber accident case is worth. The value of your case directly reflects the gravity of the damages you sustained. Hiring an Uber accident attorney helps estimate the worth of your personal injury claim accurately.
Are Uber drivers considered employees?
Uber classifies its drivers as partners and must be considered independent contractors. However, Uber has faced legal proceedings globally wherein authorities from various legal fields have argued that their drivers should be qualified employees.
SCHEDULE A FREE CONSULTATION WITH A CHICAGO UBER ACCIDENT ATTORNEY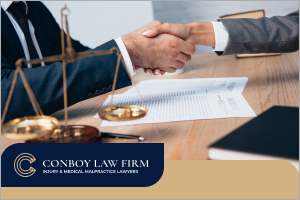 Suffering from catastrophic injuries after your Chicago Uber accident is overwhelming. You will face exorbitant medical bills and other losses, affecting you financially, physically, and emotionally. You deserve to receive fair compensation for your losses.
Conboy Law Firm has successfully assisted accident victims, and their family members fight for the justice they deserve. We are highly aggressive when it comes to protecting your rights.
Take your first step towards justice by scheduling a free consultation with our Chicago Uber accident lawyer at (312)726-9000.